TRADITIONAL WITH WEEKLY COMMUNION
Nursery Care is available
TRADITIONAL WITH CHANCEL CHOIR
Children, Youth and Adult Sunday School
Nursery Care is available
CONTEMPORARY WITH PRAISE BAND
Nursery Care is available
CHRISTMAS EVE SERVICES
2:00 PM FAMILY WORSHIP WITH GLOWSTICKS
4:00 PM FAMILY WORSHIP WITH GLOWSTICKS
6:00 PM CANDLELIGHT AND CAROLS, YOUTH-LED
8:00 PM CANDLELIGHT AND CAROLS
10:00 PM CANDLELIGHT, CAROLS AND COMMUNION
ADVENT AND CHRISTMAS SEASON
OUR MISSION
RESPONDING TO THE REALITY OF GOD
Sharing Christ's Love with Everyone
UPCOMING EVENTS
POWELL UMC CHURCH-WIDE ADVENT STUDY

Join our Church-wide Advent Study, as we prepare for the coming of the Lord. You are invited to participate in a 4 session Advent Study, Home for Christmas. This study brings inspiring stories of hope and second chances to a beautiful season. Included will be scripture lessons and tales of those who reflect on the themes with love and longing. Among the classes available will be a live WEBCAST led by Pastor Larry on Wednesday evenings starting November 28th. Class dates and times are noted in the registration form below and at the book cart. You can purchase a book from the book cart in the Main Hall for $12.00. If you are interested in joining the Advent study please register below.
THE GIFT OF THE NUTCRACKER
10:45 ADULT SUNDAY SCHOOL ADVENT STUDY
The Gift of the Nutcracker, by Matt Rawle takes the old, old story of Jesus' birth and helps us experience it through the imagination of Clara and the story of the Nutcracker ballet. This study starts, Sunday November 18th. If you are interested in joining this study please register below. All are welcome for the four-week Advent Study. You can purchase a book from the book cart in the Main Hall for $10.00.
6TH ANNUAL LILY CIRCLE COOKIE WALK
Saturday, December 8th, 8am-12pm
What is a Cookie Walk?
This is a fund raiser where we sell homemade cookies by the pound. We ask that our church members and friends bake and donate batches of one of their favorite Christmas cookie to donate for the walk. The day of the cookie walk, we line tables up in the Main Hall with large platters of the donated cookies. Buyers walk around the tables to choose the cookies they would like to purchase. The cookies are then boxed, weighed and sold by the pound. This is a great way to get a huge variety of holiday cookies without baking so many different kinds! All proceeds from the sale are donated to mission projects! This event is only successful because of all our bakers who spend the time to bake the cookies! Sign up sheet to bake cookies is in the Main Hall. Any questions, contact Kelly Brown at
kfb914@gmail.com
.
MORNING GLORY CANDY SALE
The Morning Glory Circle candy sale begins November 18th in the Main Hall with buckeyes. All proceeds support Patches of Light, an organization that offers financial support to families of seriously ill children.
CHRISTMAS JAM NIGHT
Jam night is back for another round! Join us
Wednesday,
November 28th
at 7:00pm in the Fellowship Hall! We will jam out some Christmas classics, carols and more. Bring your instrument or voice and jam with us. Professional or beginner, youth or adult, you are welcome. Contact Matt Utt with questions,
ohio.mutt@gmail.com.
A SERVICE OF COMFORT AND HEALING
Click
here
for more information.
ALL IN COMMUNITY CHRISTMAS CARD DROP
Christmas Card Drop for Persons in Prison. Drop by the table in the Main Hall,
Tuesday, December 11th
, anytime between 5:30 and 8:30 pm to share hope, love and joy with someone who is incarcerated. For many, it will be the only piece of mail received all year. Christmas cards, addresses, stamps and ideas for things to say will be available. This expression of God's tenderness is provided through All in Community. For more information click
here
. Questions, contact
sandyhuber@powellumc.org
.
UMCOR HURRICANE RELIEF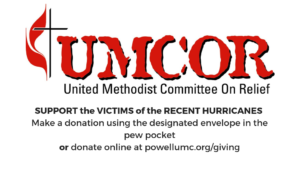 To make a donation, click on the link below.
NEW MEMBER SERIES
Sign up for the next New Member Series. If you would like to learn more about Powell UMC and how you can better respond to the reality of God by taking steps on the pathways of knowing, serving, giving and telling, come to a three-session series on these Tuesdays:
Nov 6th (6:30-8:00pm)
Nov 13th (6:30-8:00pm)
Nov 27th (6-8:00pm)
Childcare will be available. Sign up at the Welcome Center or
PRAYER MINISTRY
Powell United Methodist Church is a community bound together by faith based in part on active prayer life in our community. Prayer connects us as children of God and changes us.
Our Prayer Ministry is vital and lifts up the needs of the people into God's care.
Connect with us!
Office hours:
Monday-Thursday, 9:00am-4:00pm
Church Address:
825 E Olentangy Street, Powell OH 43065
Email Us:
On-line Directory:
If you would like to be on our e-mail list to receive "E-notes" and Pastor's notes, let us know by phone or
email
.
Meet the Powell UMC Ministry Team