UPCOMING EVENTS
SHORT TERM CANCER SUPPORT GROUP
"Living with Cancer-Emotional, Relationship, and Spiritual Issues,"
a three-session cancer support group sponsored by Stephen Ministry,
Tuesdays, September 10, 17, and 24, 7:00pm.
Come and share in a caring community about yours and your loved one's struggle with cancer. We will focus on emotional, relational, and spiritual issues and provide some educational time as well as sharing time. Invite your friends and neighbors. Contact Pastor Katya Brodbeck,
katyabrodbeck@powellumc.org.
CONFIRMATION
Click here to register and for more information.
USED BOOK SALE
11th Annual Used Book Sale, Saturday, October 5th
Drop off your used books in the Main Hall!
Drive Up and Drop Off day THIS SATURDAY
Saturday, Sept 14th, 9am-12pm.
Just drive up to the curb by the red church doors and volunteers will be ready to unload your used books for you! Current books and best sellers are especially needed.
All quantities are welcome! Bring a handful or a truckload. All donations from the book sale benefit missions of the church.
Contact Karen Curren 614-735-1065, kawooster@gmail.com.
THE COST OF POVERTY:REENTRY SIMULATION
Wonder what challenges a person faces returning to the community after incarceration? Wonder how you make a difference? The Cost of Poverty: Reentry Simulation, Sunday, September 22, 2:00-5:30pm will give participants a glimpse into the lives of returning citizens and families and capture roles that the church and community can play in restoring individuals to successful life. This simulation is sponsored by PUMC's All In Community ministry in response to the current incarceration crisis. Register online through the link below. For more information contact sandyhuber@powellumc.org or Heidi McDowell at heidilmcd@yahoo.com.
MEN IN MISSION
All men are invited to participate in our annual Mission Work Day, Saturday, October 19, at Good Works in Athens, Ohio. This is a meaningful way to serve, learn, and connect with others in faith.
BIBLE STUDY: GOSPEL OF MARK
A Fall Bible Study at Powell Senior Living: Mark's Gospel,
Fridays in
October 4, 11, 18, and 25 at 2pm
at Sky Lounge. Read and share in a discussion and conversation on the Gospel of Mark to share Christ's love and the good news in a larger community. All are welcome. Facilitators: Pastor
Katya Brodbeck
and Karen Barwinski. To sign up and for more information, go to the link below.
DISCIPLE BIBLE STUDIES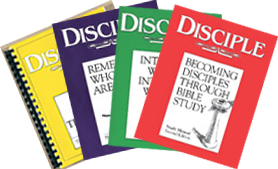 Are you interested in Disciple Bible Studies? These 24-week studies helps each of us live as disciples of Jesus. Register your interest through the link below. Questions, contact Kim La Rue,
kimlarue@powellumc.org.
SUMMER READING PROGRAM