ALPINE WONDERS AND
OBERAMMERGAU PASSION PLAY TRIP
September 5-13, 2022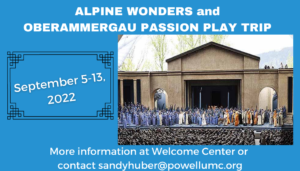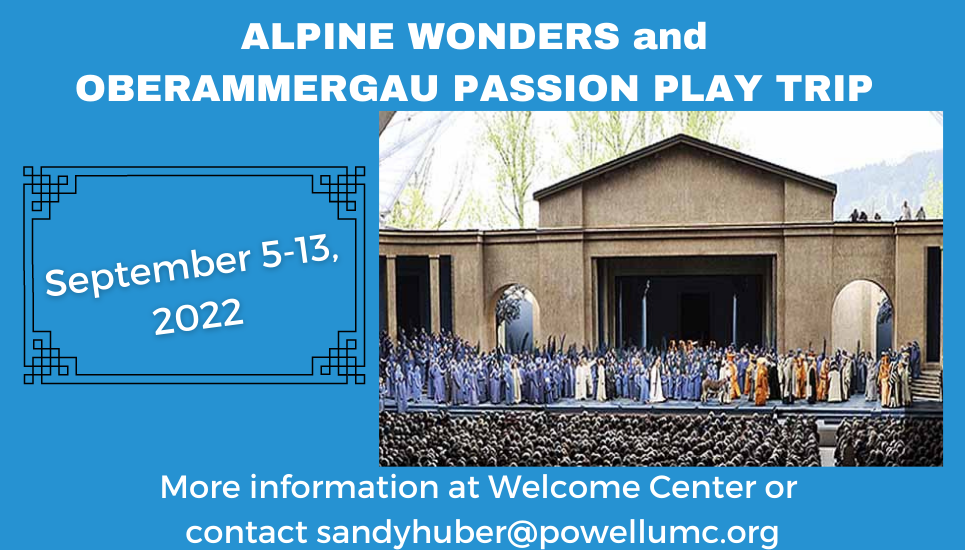 Deacon Sandy and Brian Huber invite you to join them in traveling to the destination of the decade.
Because the worldwide virus pandemic caused the ten-year production of the Oberammergau Passion
Play to be delayed two years, there is a second chance to experience the meeting of faith and passion in
Oberammergau. On this Educational Opportunities tour, you will see the world-famous musical and
dramatic production of the Passion Play, visit the beautiful Bavaria and Tyrol regions of Germany and
Austria and have opportunities to extend your journey. For photographs, a complete itinerary, a
downloadable brochure and registration information, go to
http://www.eo.travelwithus.com/tours/pp20090522a42011#.X2z3dEBFzcs, visit the
Welcome Center or contact sandyhuber@powellumc.org for a personal conversation.
Powell UMC offers a variety of classes and studies as well.
Click here for information on all upcoming and current adult studies and classes!