ALL IN COMMUNITY
All In Community is a modern day, Biblical response to the impact of mass incarceration.
At Powell UMC, All In Community responses include: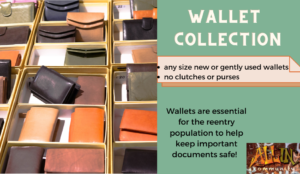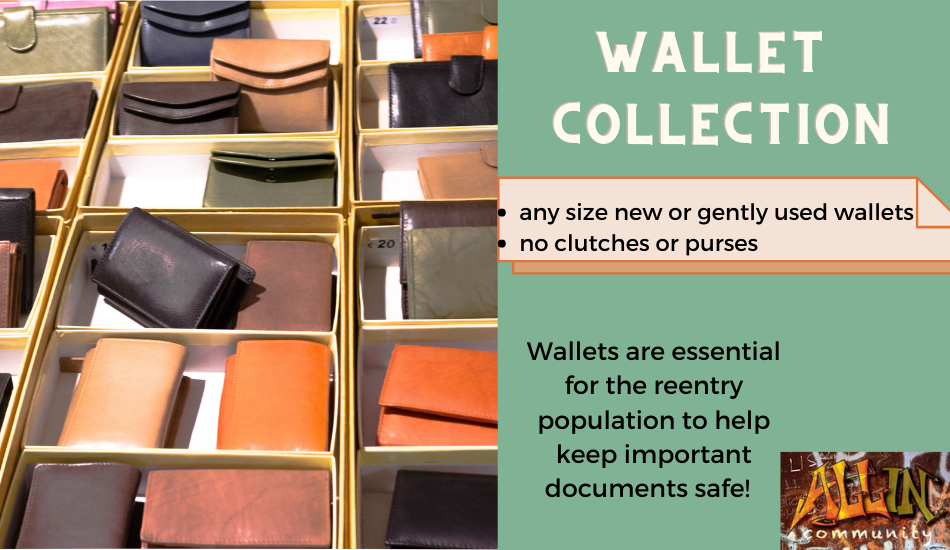 Wallet Collection,

In partnership with the Ohio Reformatory for Women (ORW), the Delaware County Reentry Coalition will be collecting donations of new or gently-used wallets to be provided to women being released from incarceration in the month of December. One of the biggest obstacles for the reentry population is obtaining a legal state ID which is necessary for re-entering the workforce, securing housing, etc. Essential documents have often been taken away, misplaced, or lost during incarceration. We want to provide wallets so these important documents have a place to be stored. Drop off the wallets in the labeled bin found in the Main Hall through the month of October.
Welcome Home Bags,

Welcome Home a Person Returning from Jail or Prison Persons are released with little or nothing.
HOPE Letters, a regular mentoring correspondence with incarcerated men and women

in Ohio's state prisons. This is a signature initiative of the West Ohio Conference.

Training and a year's commitment is required. Contact sandyhuber@powellumc.org.
Support of transitional sober living at Liberty and Unity Houses, Delaware OH. (Ministries of https://www.jacobsway.org/)