WHAT'S HAPPENING?
Scroll down through all of the images for more information.
EQUAL EXCHANGE
Support small scale farmers and Family Promise. Great time to order for the upcoming holidays. Sales ends at noon on Thursday, November 5th. Click HERE to order. Thank you for your continued support.
NEW MEMBER SERIES
KEEP THE CONVERATION GOING:
letter from a Birmingham jail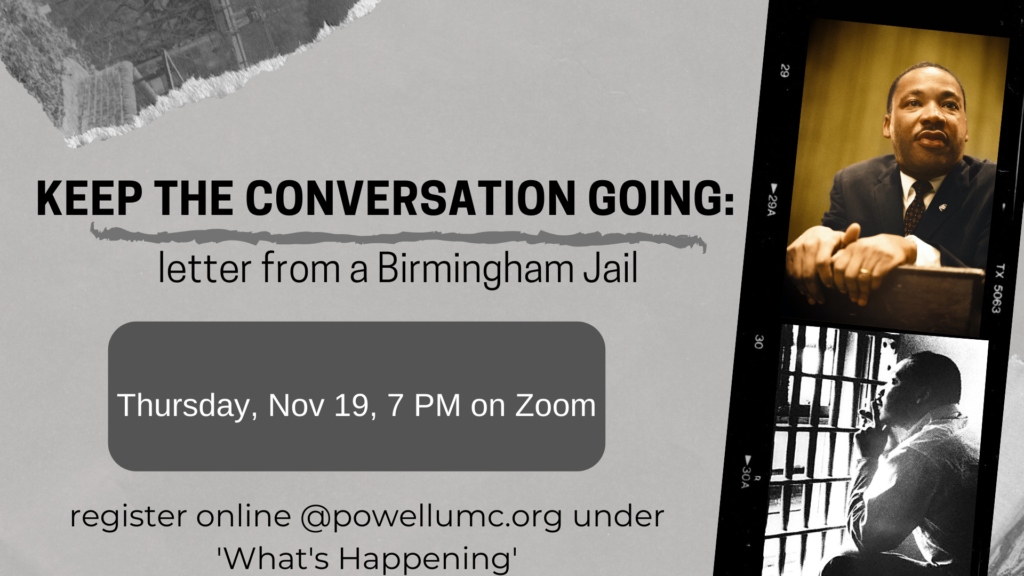 Keep the Conversation on Racism Going
: There are some historical events that leave their mark on society in ways that can be recognized for many years. Some events leave a legacy that we can look back upon for perspective and if we're fortunate they may even serve as a catalyst for change in current day time. Martin Luther King's letter from a Birmingham Jail is such a marker in history. Join us in exploring the perspective and relevance of this letter as it pertains to God's call to respond to racism in today's world. Click
HERE
to register.
PRISON FELLOWSHIP

ANGEL TREE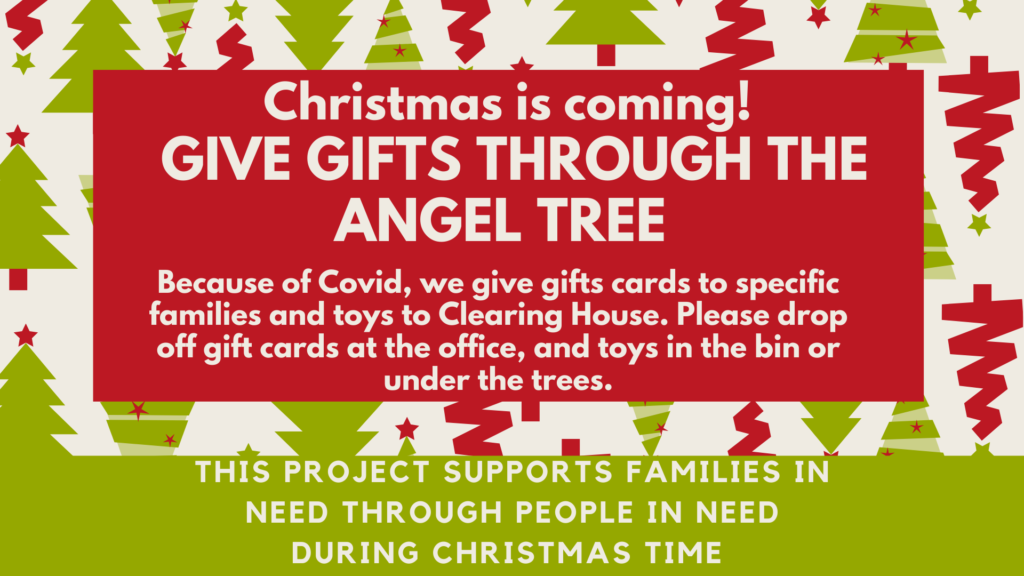 Be an Angel this Christmas and get a tag from the Angel Tree for People In Need! This Christmas is different for our community so some of the ways we will do things this year will be different as well. This year we are committed to supporting children with gift cards from Walmart and Meijer with $30 value and many other kids through Clearing House with a variety of toys. To provide safe ways to pick up tags and drop off the gifts, here are the dates to come by the church:
Oct 17, 9am-1pm, Drive by the church and pick up tags
Nov 29, 9am-1pm, Drive by Drop Off the Gifts
The Angel Trees will be up in the building as well starting Oct 18 where you can grab your tag and drop off your gifts.
To drop off the gift cards, either on Sunday morning and leave at the welcome center or under the Angel Tree. During the week, please bring the cards and leave with a staff person. The office hours: Mon-Thur, 9am-1pm.
You can drop off the toys at the bins outside or bring them inside and put them under the tree. The deadline to bring all the gifts is November 29th, 1pm.
With questions, please contact, Pastor Katya, katyabrodbeck@powellumc.org.
If it is not easy for you to buy gift cards or toys this year and you still want to support this mission, use the donation form below and our elves will do the shopping for you.
OPERATION CHRISTMAS CHILD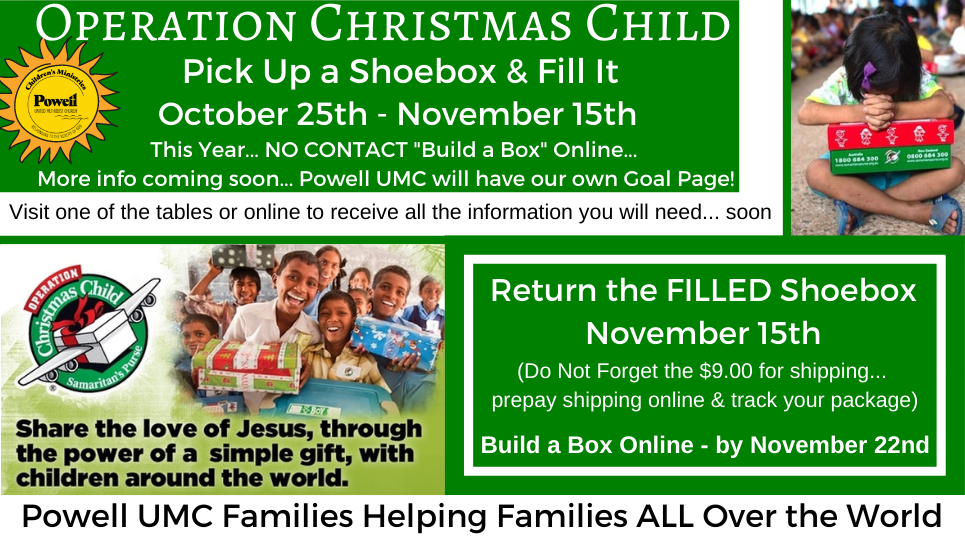 Build Your Own Shoebox Online
– This is a 100% Zero Contact way to build, pay and give a shoebox
– You can build the box & make choices or have the computer do it for you
– You decide, BOY or GIRL
– You decide what age group to give to
– You even decide what items to put into the box
– A basic box costs $25.00 (this includes the $9.00 shipping)
– You can add $6.00 to include The Greatest Journey Discipleship Program
– Build your shoebox TODAY – click
HERE