"Growing together in faith and sharing God's love and change our world."
WHAT'S HAPPENING?
Scroll down through all of the images for more information.
For Serving and Mission opportunities, click
HERE.
For this week's bulletin, click
HERE.
We are excited to welcome Matt Rawle THIS Thursday, March 23, at 6pm in room 102N. Matt is the author of our church-wide study, Jesus Revealed, and many other studies. We hope you will join us for this meet and greet! To help us plan, please register HERE. For more information, contact DebbieWenner@PowellUMC.org.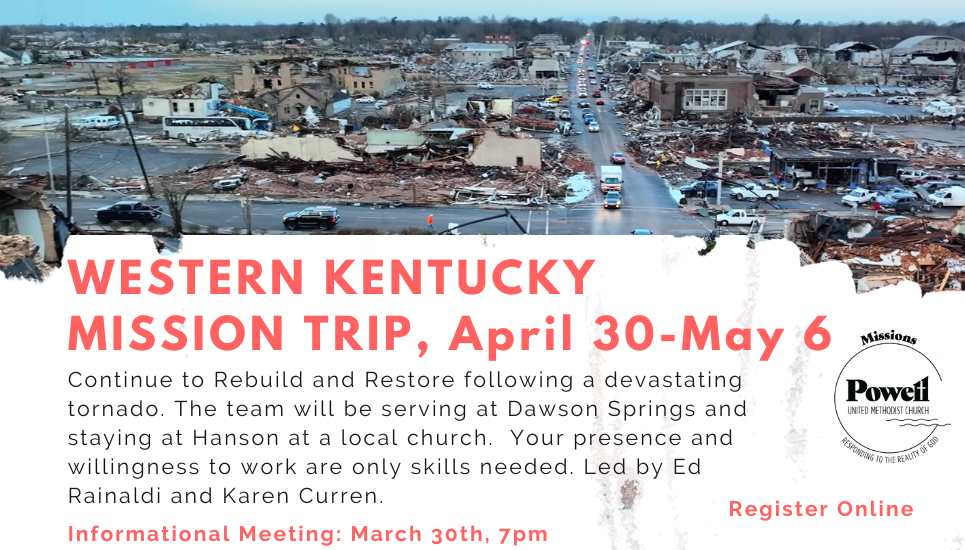 Mission Trip to Western Kentucky to Continue to Rebuild and Restore following a devastating tornado, April 30-May 6, led by Ed Rainaldi and Karen Curren. The team will be serving at Dawson Springs and staying at Hanson at a local church. The work includes home repair, but the most important work is the gift of presence. A willingness to work and a desire to be transformed through work, time away and reflection are all that are needed. An informational meeting will be held on Thursday, March 30th, at 7pm. Register HERE or email Pastor Katya with questions, katyabrodbeck@powellumc.org.

Click HERE for registration, volunteering and more…

Pizza with the PUMC Pastors is Sunday, March 26, at 12:15pm. If you are new to our church, you are invited to this causal event to learn about the ministry and mission of our church and to get to know the pastors and others who are beginning their journey at PUMC. Sign up HERE.