WHAT'S HAPPENING?
Scroll down through all of the images for more information.

Send Cards of Encouragement to Our Missions Partners
Many nonprofits including our mission partners, have been hit hard in 2020, with much of the work placed on the shoulders of the staff and not volunteers. Many of them are weary. So we want to encourage them to let them know that they matter and the work that they do is very important. Powell UMC's Mission team invites you during the month of January to send cards of encouragement and appreciation to the staff of our mission partners. You can use any cards or even make your own. The most important thing is to share words of hope and appreciation. Register using the link below before January 17th, and you will be given all the information needed to send cards. Send the cards before January 31st. Thank you for sharing love with those who work tirelessly in our community to share hope and light. Feel free to be creative and let the person know we see them appreciate all they do to "love on others" each day. If you need some ideas or inspiration, here are some options:
* You are a light to another person. We see and love you for what you do!
* You are Christ's hands and feet for another person. Thanks for all you do each day!
* You love your neighbor as yourself each day. Your commitment and work are very much appreciated.

Welcome Home a Person Returning from Jail or Prison Persons are released with little or nothing. Filling this bag with the following items will make a big difference as the process of reentering begins:
Deodorant

Shampoo

Hand sanitizer

Toothpaste

Toothbrush

Soap

Washcloth

Lip balm

Comb or brush

Razors (men and women)

Shaving cream (men)

Feminine products (women)

Washable face mask

Gloves or a hat

WalMart gift card, $10 suggested
You can pick up a zip lock bag to fill from the Mission table in the Main Hall starting January 24th, or use one of your own.
Return the bag with an encouraging note(signed first name only) and label it Man or Woman. Pray for the neighbor who will receive it through the Delaware County Re-entry Coalition.
Don't want to fill a bag with all of the items suggested? Fill it with gloves or hats, which are especially welcomed this winter season.
This ministry is sponsored by Powell UMC All In Community, a modern day Biblical response to the impact of incarceration. Contact Deacon Sandy Huber, sandyhuber@powellumc.org, with any questions.
Equal Exchange
On behalf of the Peace & Justice team at PUMC we would like to say THANKS! Thank you so much for supporting Equal Exchange sales through 2020. Because of your support and generosity, Peace & Justice will be donating an additional $1,500 to Family Promise!
We are so grateful for your support!
There will be no Equal Exchange sale in the month of January. We will resume with our usual monthly Equal Exchange online sale in February.
Food and Toiletries Drive to Support People In Need and Common Ground Free Store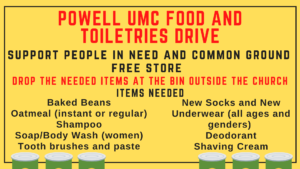 Buy any of the items below when you go to groceries next time, and bring the items to the bin outside the church or inside the church. All the items go to support the non-profits in these challenging times:
Baked Beans and Oatmeal

Shampoo, Soap, Deodorant, and shaving cream

Tooth paste and tooth brushes

New underwear and socks for all ages and genders
Your monetary donations are also welcome for the People In Need to purchase perishable foods. Please use this link to donate and put PIN in the Missions tab.
Common Ground Free Store: serving with those in need in the community
Serve with the Common Ground Free Store Ministries every First Tuesday of the month. This is an opportunity to serve alongside those who are struggling in our community, a way to welcome and be on the common ground with them. Volunteer jobs include: welcoming, checking in and out customers, preparing a to go meal and sort donations. Currently, the store follows all the protocols to keep their customers and volunteers safe, including but not limited to, wearing masks, checking temperatures, limiting the number of people in the store. Next time our group goes to serve is Tuesday, Feb 2nd, from 5:15pm to 8:15pm. If you would like to serve, please let Pastor Katya know, katyabrodbeck@powellumc.org.