The mission of the Furniture Bank is to help families and individuals struggling with poverty and other severe life challenges. The Furniture Bank has helped more than 65,000 families in Central Ohio.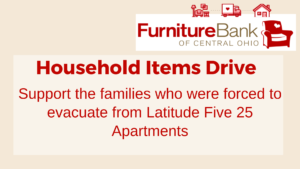 New and Gently Used Household Items Drive: Partner with the Furniture Bank of Central Ohio to support those traumatically evicted from the Latitude Five25, February 26th through April 2nd, Main Hall
Support the families who were forced to evacuate from the Latitude Five25 apartments. Terrible conditions forced 150 or so families out of their homes with no chance to return and collect their household items. The Furniture Bank of Central Ohio is stepping to support the families with furniture and household items. Powell UMC is partnering with the Furniture Bank and new and gently used household items will be collected through the season of Lent. The list of accepted items is below. Please drop off the items at the church Mon-Th, 9am-3:30pm or on Sunday mornings. Once the families will receive the items, the furniture bank will continue to use the items for other families.
Kitchen items (should be microwave and dishwasher safe):
Dishes (dinner plates, small plates, bowls) – sets of 4 – 6
Cooking tools (e.g., knives, spatulas, large spoons)
Small appliances (e.g., toasters, coffee makers) in working condition
Sheet sets (especially full and queen size)
The Furniture Bank has an Amazon wish list and if you would like to purchase items on Amazon, use this link,
Monetary donations to support this mission are accepted as well. Use this link to donate.
If you have furniture items to donate, please call Furniture Bank to arrange a pick up, 614-545-3838. For more information about the Furniture Bank of Central Ohio, go here.
If you have a mattress or dresser to donate, here are your options:
* Call 614-545-3838 for a free pick-up that includes a mattress or dresser. Other furniture and household items can also be donated. Pick-ups are made throughout Columbus, Powell, Dublin, Lewis Center, parts of Delaware, and many other communities.
*Drop off your mattress or dresser, and any other furniture and household items, at the Furniture Bank, Tuesdays and Thursdays, 8:30 – 11:30 am, 118 S. Yale Ave., Columbus.
* Arrange for free pick-up by the Furniture Bank. Check out their website for details.
*Make a monetary donation on http://www.furniturebankcoh.org
If you need help with furniture, please call the Furniture Bank, 614-272-9544 to learn more.