HABITAT FOR HUMANITY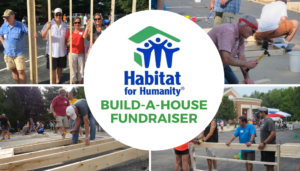 Delaware and Union Counties Habitat for Humanity works in partnership with all of God's people to strengthen communities by building, renovating and repairing homes, and by advocating the value of, and need for, affordable and sustainable housing. Powell UMC has been in partnership with Habitat for Humanity of Delaware and Union Counties for several years now.
The 2020 Habitat for Humanity Wall Build has been postponed due to risks connected to the Covid-19 pandemic. However, we are still committed to helping Habitat for Humanity in Delaware and Union Counties build a house for a family. Instead of building a house with our hands in our parking lot, we are going to "build a house" online with our generosity! You can help "build this house" by "buying" one item or a variety of building materials used in the construction of a Habitat home. In the form accessible below, you can select the building materials you would like to "buy". You can also make a general donation through this format or by sending a check to Powell UMC with the memo "Habitat for Humanity Fundraiser." All donations will go directly to building a Habitat for Humanity home. Thank you for responding to the reality of God on the pathway of giving with your generosity!