PEOPLE IN NEED (PIN)
People In Need, Inc, of Delaware County Ohio (PIN) is a private, non-for-profit 501 (C) (3) social agency dedicated to providing emergency assistance to Delaware County residents.
Support Our Neighbors through PIN

as a crushing reduction in SNAP (Supplemental Nutrition Assistance Program) is coming soon. Since March 2020, Emergency Allotments from the government have distributed additional food assistance to these households. That assistance will be reduced to previous levels due to recent federal legislation which impacts thousands of local residents. To come alongside our neighbors in need, when you go grocery shopping, pick up some extra items: crackers, soup, peanut butter, jelly, and cereal; drop the items at the mission cabinet.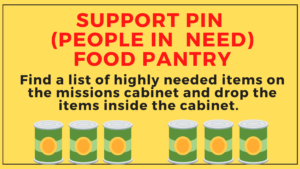 Ways to Serve and Donate:
People In Need Food Pantry is currently in need of some specific items. There is another month until school starts, and the need is great. Bring the items below to the mission cabinet by the mission closet at the church or donate online, indicating "Food for PIN" here.
Canned Fruit

Soup

Canned Veggies

Noodle of any variety

Cereal
Thank you for sharing God's love with those in need. Please place item(s) in the Mission Cabinet between the Main Hall and the Narthex. Thank you for sharing God's love with those in need.