Open to young ladies grades 6th-12th Grade
We meet every other week on Tuesdays, 6:30 – 8:00pm, in the Lower Level.
Upcoming GOG Meeting Dates

:
March 21, April 4 and 18, May 2, 16, 30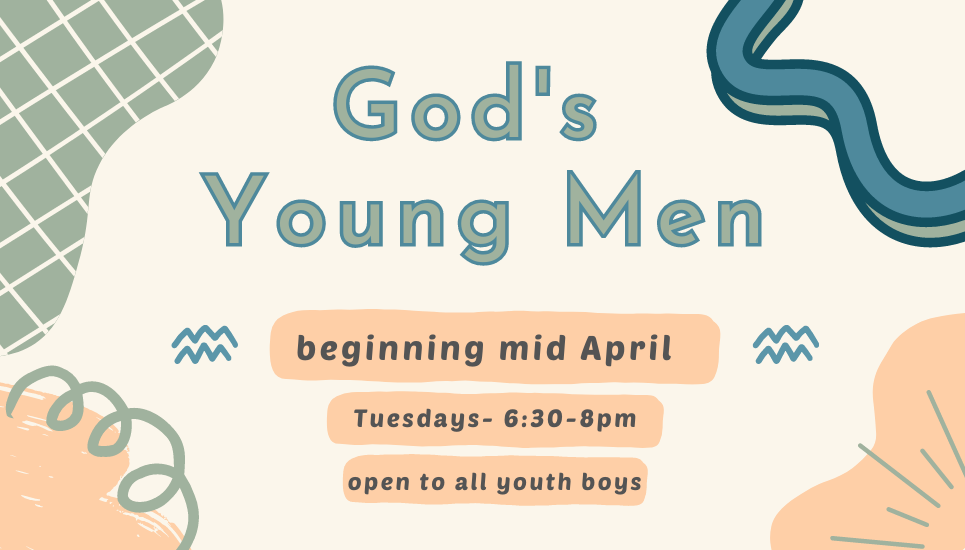 God's Young Men (GYM) is launching in April! Middle and High school guys are invited to join us for this biweekly gathering to explore their faith, be in fellowship and engage in meaningful discussion. More details coming soon. GYM will meet on Tuesdays from 6:30-8pm. Contact Drew Thiele, thiele.drew@gmail.com, with questions.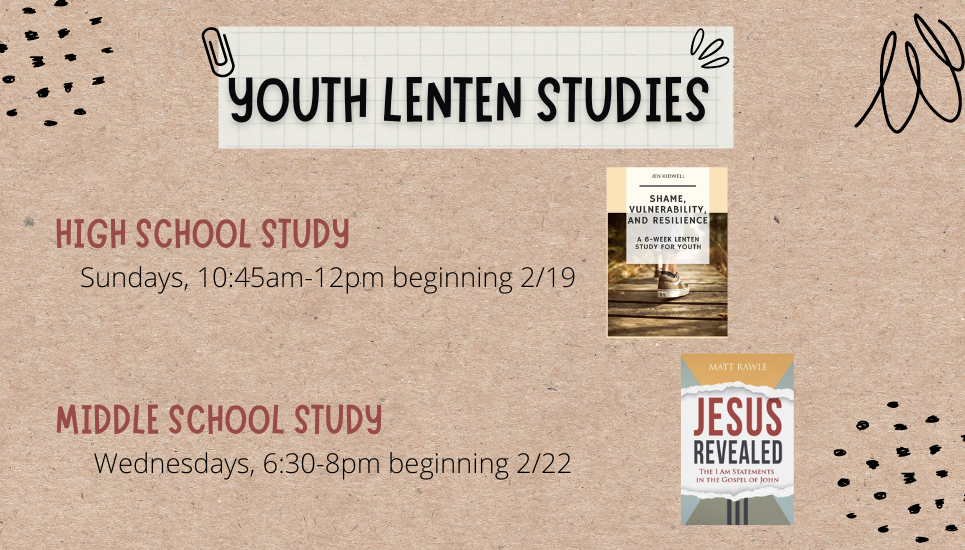 Beginning Sunday, 2/19 and Wednesday, 2/22
This year we have a Lenten study for middle school AND high school! Studies are such an awesome way for us to be engaged during the liturgical year and especially for the season. We hope your youth can take part in a Lenten study!
High School: Shame, Vulnerability, and Resilience by Jen Kidwell, Sundays, 10:45am-12:00pm beginning, Feb 19
This year's high school Lenten study invites youth to have curiosity about themselves and scripture, find confidence in their createdness, companionship in Jesus, and courage to transform the world through love. The study will feature excerpts from Brene Brown's TED talks as well as some clips from the TV shows: Parks and Rec, The Office, Schitt's Creek, and The Good Place. Our last session will be on March 26. REGISTRATION
Middle School: Jesus Revealed: The I Am Statements in the Gospel of John by Matt Rawle, Wednesdays, 6:30pm-8:00pm, beginning Feb 22
This year's middle school Lenten study will explore the I am statements of Jesus through Matt Rawle's book, Jesus Revealed. This is the book being used for the all church Lenten study! Our first session will start at 6pm on Wednesday, 2/22 to allow us to go to the Ash Wednesday service together. Our last session will be on April 5. We will not meet on March 29 during Spring Break. No book purchase is required. REGISTRATION
Register at the links listed above! Youth can also register on Sunday morning. Email Hannah with any questions.
We look forward to connecting with you!
Questions, please contact Hannah.