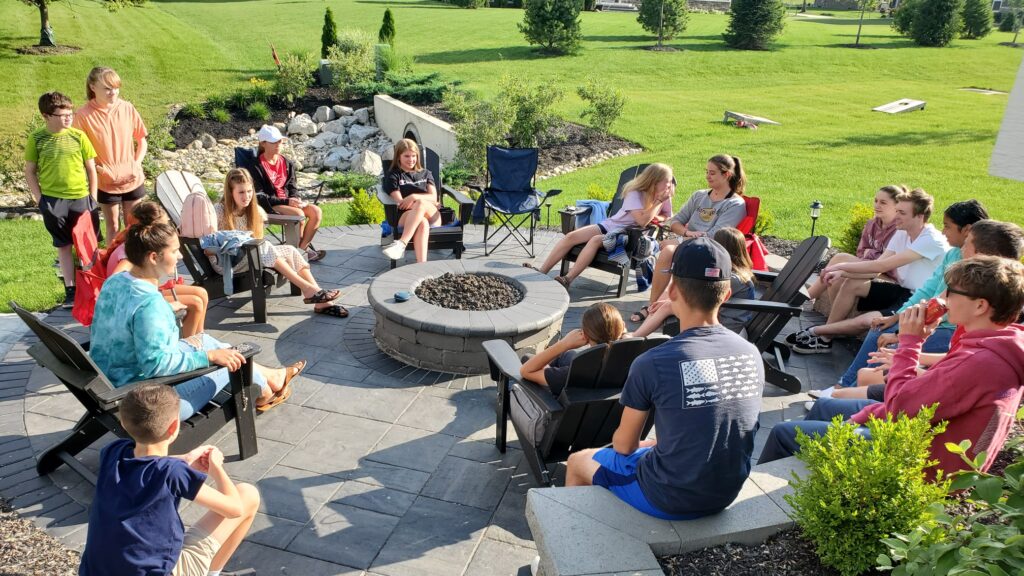 YOUTH BIBLE & BOOK STUDIES, click here for more information.
YOUTH RENOVATION PROJECT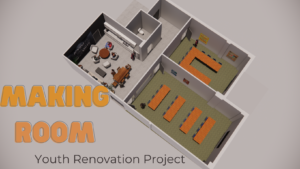 Click HERE fore more information and/or to donate to the project.
Join us this summer for fun, fellowship and study! Save the calendar images below to stay up to date on youth events throughout the summer. Weekly, we will have our Girls of Grace Bible study and our youth study on prayer. Biweekly we will have 'devos at the park' at 10am on Thursdays. This will begin on June 2. We will meet at Murphy Park! Bring your own coffee or smoothie, Hannah will provide bagels/muffins! Each month we will have a bonfire and have ample opportunities to participate in fellowship and mission. We can't wait for you to join us!
*ALL youth events are open to incoming 6th graders and current youth (6th-12th grade).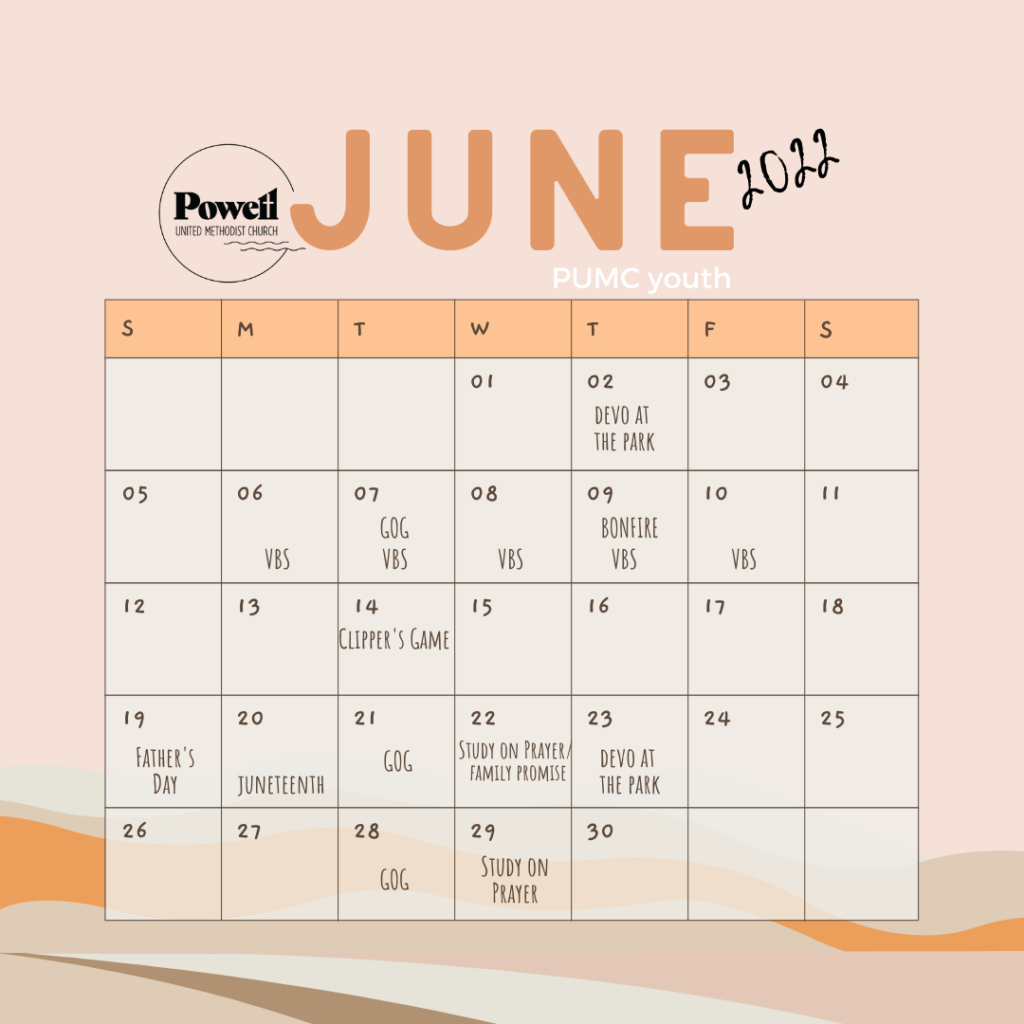 Devotions at the Park-Murphy Park, 10:00am Thursday SUMMER dates,
6/2, 6/23,
7/7, 7/21,
8/4
Girls of Grace Bible Study-each Tuesday beginning in June, 4:30-6:00pm
NOT meeting on these dates:
6/14 and 7/5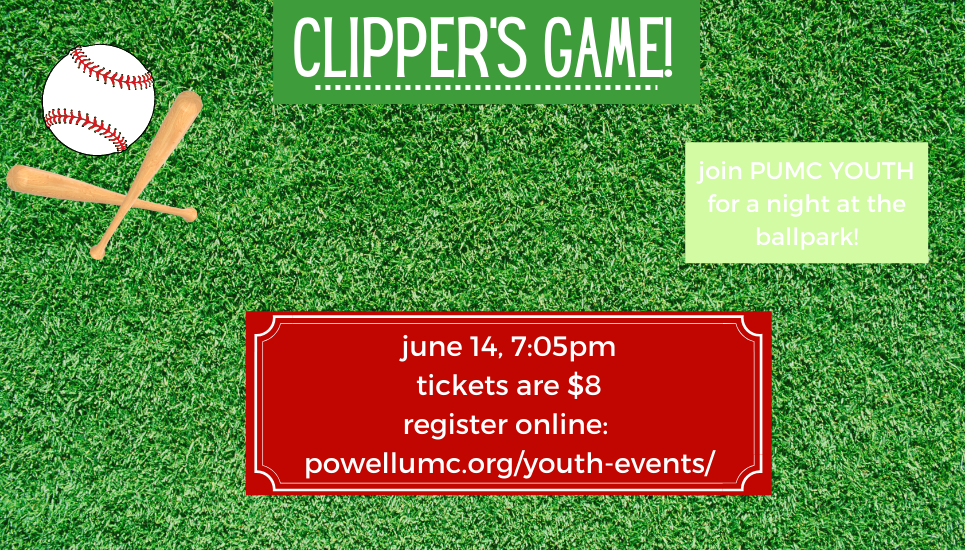 Clipper's Game: 6/14, 7:05pm Join us for a night at the ballpark! PUMC Youth are going to a Clipper's game on Tuesday, June 14 at 7:05pm. In order to attend, registration must be completed along with ticket payment. Parents are more than welcome to join! Youth must have their own transportation provided. Carpooling is strongly recommended. Contact Hannah, hannahvanmeter@powellumc.org with any questions! Last day to register is Sunday, June 5.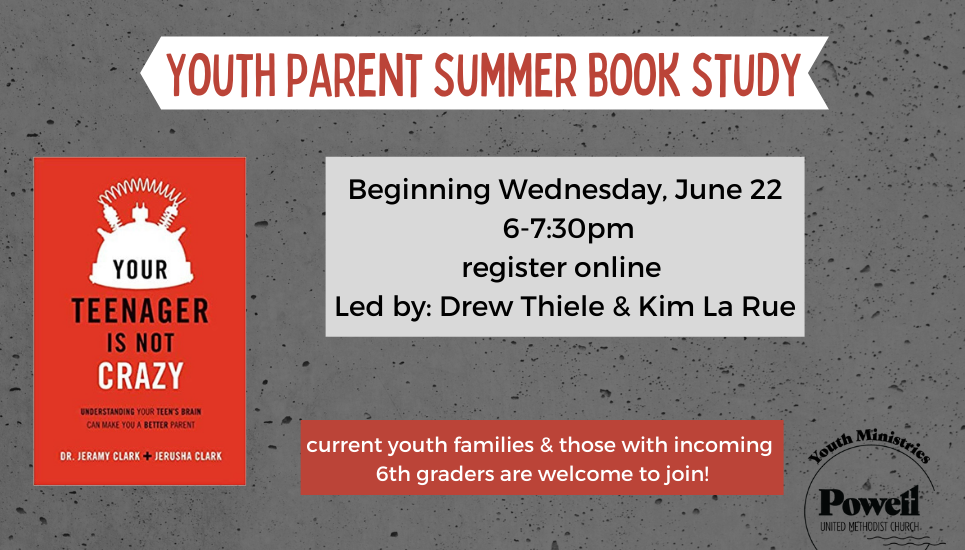 Youth Parent Book Study:
This 8 week summer study will begin on Wednesday, June 22. We will meet each week from 6-7:30pm. Current youth families and those with incoming 6th graders are invited to join. This study will explore the book Your Teenager is Not Crazy by Jeramy and Jerusha Clark and will be facilitated by Drew Thiele and Kim La Rue. Register HERE. Please purchase your book individually! Order book from Amazon. Questions, contact Hannah.
Summer mission: around the church & locally
Bonfires: monthly 6-8pm must RSVP to Hannah. Contact Hannah if your family is able to host a youth summer bonfire
6/9- BODE household (pool party)
7/13- SPEELMAN household
8/4- ADAMS household
Family Promise: 6/22 Make a meal
Summer study on Prayer:
Wednesdays, 6-7:30pm,beginning 6/22 NOT meeting on these dates: 7/13

Let's explore all the different ways we can pray! Physically, spiritually, creatively, etc.
Safe Sanctuary Training for Youth Events:
If you've thought about volunteering within the PUMC Youth program or your safe sanctuary training is expiring this year, please sign up for a training session this summer! Training lasts for 2 years. Email Hannah with any questions or to see when your training expires. D
ates TBD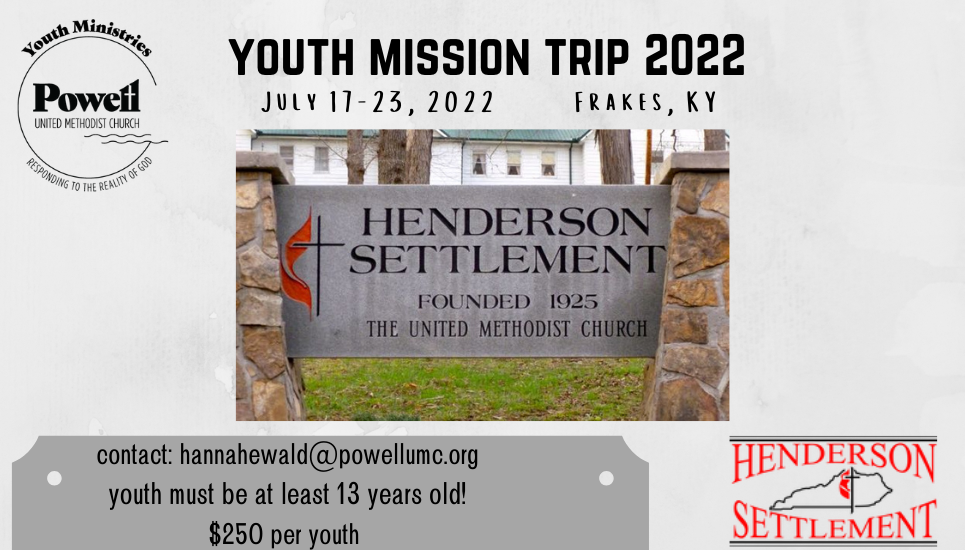 HENDERSON SETTLEMENT MISSION TRIP: Postponed until 2023.
Henderson Settlement is a UMC work camp located in Frakes, KY. Their mission, as part of the body of Christ, is to lift up Jesus Christ by providing basic needs in Appalachia through God's love. For more information about Henderson Settlement & potential project lists, search here.