LOOKING AHEAD…MARK YOUR CALENDARS
Christmas Pageant Practice

: IT'S NOT TO LATE TO SIGN UP ON LINE! Children in preschool – 5th grade are invited to participate. Now through November 25th, ALL CAST 2-3pm; Speaking parts stay from
3-4pm. Rehearsal is in the Sanctuary.
Sept & Oct Children's Mission Items Collection

: Crayons & Coloring Books. Items will be given to PIN (People In Need) in Delaware County. Place on Missions Table in Education Wing or Preschool Wing.
Operation Christmas Child ShoeBox Gifts

: November 4th-18th. LAST DAY to give a box is Sunday, November 18th. This is an awesome activity to do as a family! Encourage your children to help fill the shoe box!
Thankful Heart:

Sunday, November 11th from 12:30-1:45pm.
Pageant Dress Rehearsal

: Friday, November 30th. Dinner begins at 5:30-6:00pm. Rehearsal will be 6:10-8:00pm or so.
Children's Christmas Pageant Performance

: Saturday, December 1st at 2 pm (ALL ARE INVITED to ATTEND). This is the BEST way to begin the Christmas Season! Come…Watch & Enjoy!
"A Casual Christmas"

: Sunday, December 9th, 4:30pm-6:30pm
-Bells Perform in Sanctuary 4:30-5:30pm;
-Crafts, Music & Snacks in Fellowship Hall 5:30-6:30pm
Powell Senior Living

: Sunday, December 16th at 1:30pm. Children and families are invited to sing Christmas songs with the residents.
Children's Christmas Eve Services

: Monday, December 24th
-2pm Service: Cherub Choir & Friends Sing & Joyful Ringers Ring;
-4pm Service: Children's Choir Sings & Joyful Ringers Ring
-Children read Scripture & Participate in both Services (2pm & 4pm)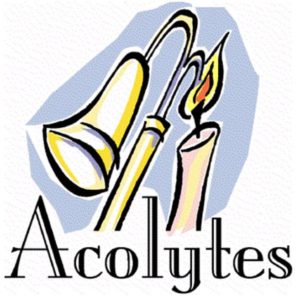 Children Participating in Worship…. as Acolytes
Children 2nd – 5th Grade are invited to be Acolytes during the

8:15am & 9:30am

Services!
Would your child like to be an acolyte and participate in the Worship service?
Training is done by Pastor Katya.
An acolyte is a person who carries the light of Christ into the Worship service
.
We love children participating in Worship.