Keep an Eye Out about…MARK YOUR CALENDARS
"Lunch Breaks", Tuesdays, June 28th, 12:00-1:00pm: Ms. Rebecca will be reading Little Pilgrim's Big Journey (John Bunyan's Pilgrim's Progress Fully Illustrated and Adopted for the Next Generation). Bring a lunch, and a blanket. Adults are encouraged to take a "break" with us. Please register through the link below.
Ice Cream Social, Wed, July 6th, 7:00-8:00pm: Come as a family for crafts, games, music, fellowship, fun, and ice cream! Please register through the link below so Ms. Rebecca has enough ice cream!
July Children's Check-In: Wednesday, July 20th at 6pm. We will watch a movie, eat, color, fellowship and have fun. (Not sure of the movie yet… but it will be good) Register through the link below & invite friends!
Blessing of the Backpacks, Sun, Aug 14th, all services: Come and receive a tag as a reminder that your church family is praying for you and or your loved one this coming school year!
Bible Camp and Presentation, Sat, Sept 10th and Sun, Sept 11th: 2nd – 5th Graders are invited to receive a Bible. Camp is Sat, Sept 10th, 9-11am (breakfast is served) and Bible Presentation is Sun, Sept 11th at all three services. Register through the link below.
Keep checking to see New Things Added…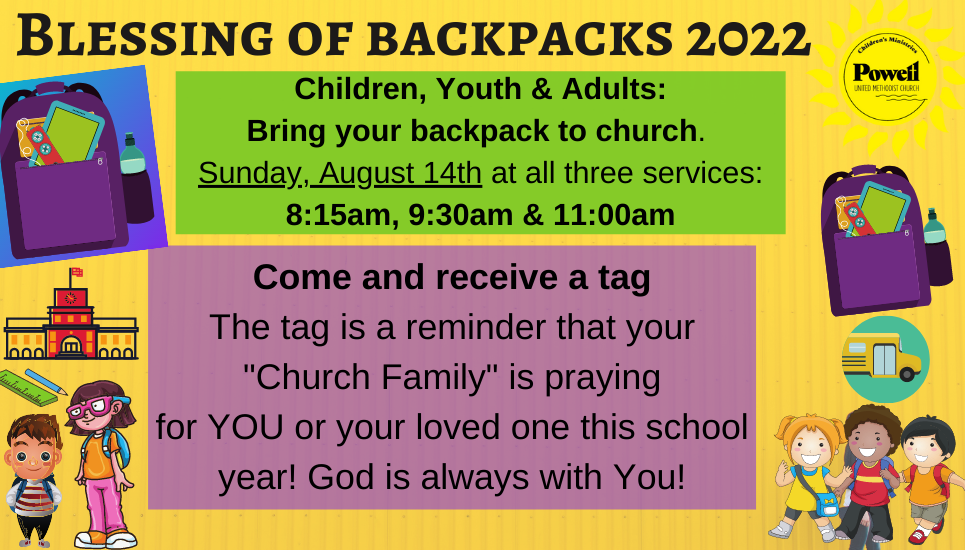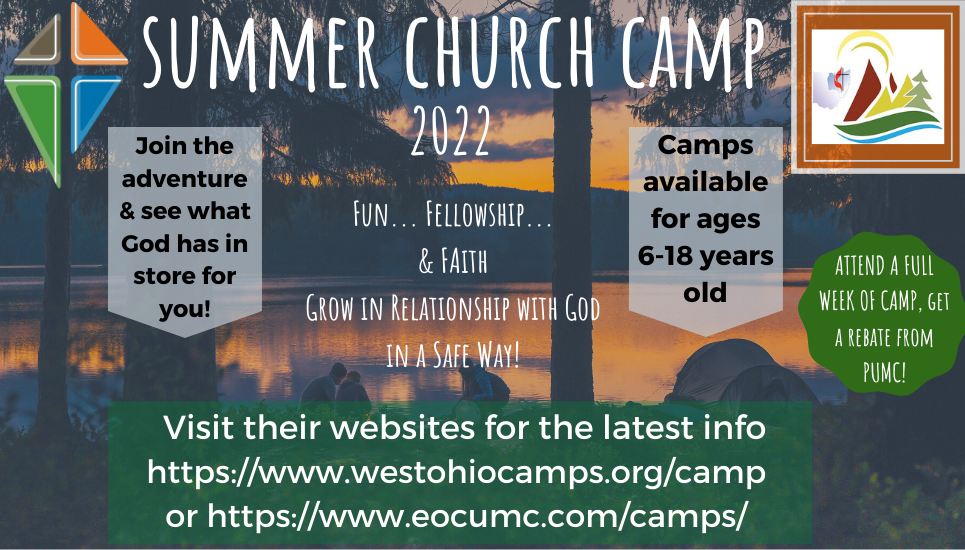 There are camping opportunities for ALL ages!
– There is ALSO Family Camp… go camping as a family
– Powell UMC will give a rebate of $100. for each child attending church camp.
– Church is important we want to support your family in sending them to camp!
If your child is interested in going to church camp with other friends from our church… PLEASE let me know and I can help get kiddos and families connected!
Camp Otterbein Church Camp Opportunity (I am HIGHLY encouraging this camp for younger or 1st time campers)
– Explorer Camp: July 28 @4pm – July 31st @ 5pm (4 days, 3 nights); Ages: 7-13; Cost: $235.
– At explorer camp children will get to try out of some the camp's favorite camp activities and will get a snapshot of the summer theme. Explorers stay in cabins in the woods. They will get the feel of a traditional rustic cabin with modern convivences like air-conditioning and nearby restrooms. You and your cabin will eat, play and worship together during your stay at camp. Each cabin group gets to choose which activities hey want to explore! Together, you will pick from over 30 different activity choices.
– Scott Seese, the Director of Otterbein has shared with me this information and information about all the camps offered at Otterbein and the dates. I do not have information for other West Ohio Camps. Scott will be at Powell UMC on Sunday, April 3rd to answer any camp questions.
West Ohio Conference Church Camp Info Click Here
East Ohio Conference Church Camp Info Click Here
Do you have questions or concerns about church camp? PLEASE talk to Ms. Rebecca… I LOVE CHURCH CAMP!!!! I truly think ALL children should go to church camp!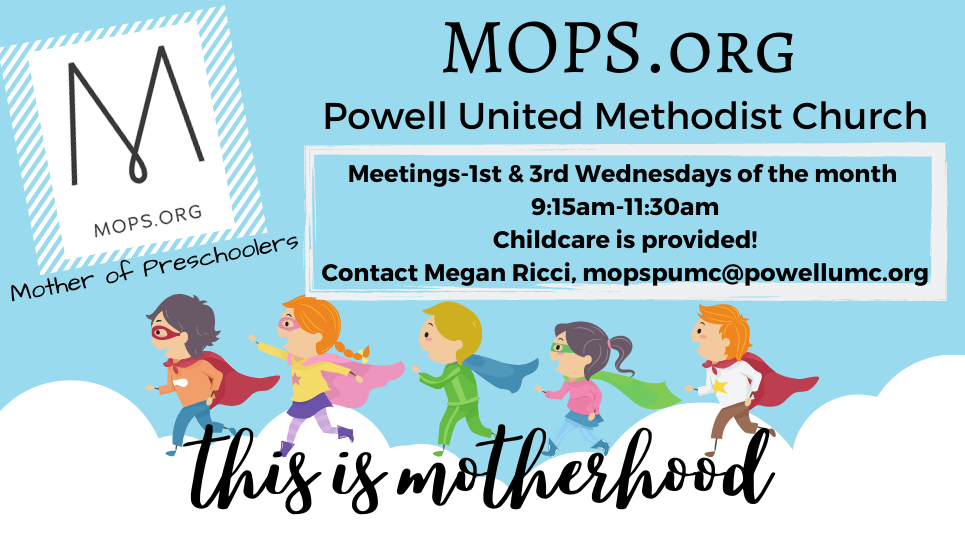 What is MOPS? MOPS (Mothers of Preschoolers), is a group that gathers and supports moms. MOPS believes in the simple but revolutionary idea that remarkable things happen when moms come together, face to face. That's why MOPS rallies women to come together in their own neighborhoods and help each other through this thing called motherhood, one gathering at a time.
New Interested Moms email Megan Ricci at mopspumc@gmail.com before beginning the registration process. Existing members, follow the below steps to register."
Fall Session Only (Sept-Jan) $20.00
Spring Session Only (Feb-May) $20.00
Fall and Spring Session (Sept-May) $30.00
Registration is a two part process.
Powell United Methodist Church (PUMC), click HERE. You will need to register yours and your child's information.
If you do not complete both the MOPS organization and the PUMC form your registration will not be complete. Please make sure to complete both.
For more information about MOPS, check out the national site at

mops.org.