PEOPLE IN NEED (PIN)
PEOPLE IN NEED, INC. OF DELAWARE COUNTY OHIO (PIN) IS A PRIVATE, NOT-FOR-PROFIT 501 (C)(3) SOCIAL SERVICES AGENCY DEDICATED TO PROVIDING EMERGENCY ASSISTANCE TO DELAWARE COUNTY RESIDENTS.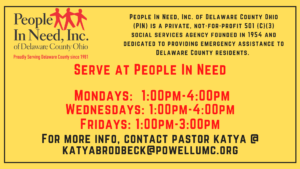 Ways to Serve:
Donate nonperishable food items, paper and laundry supplies for the Food Pantry. Place your donations in the

mission closet between Main Hall and Narthex. Please open the doors of the cabinet and place your donations in there.