TUESDAY MORNING GROUP (TMG)
This group meets on Tuesdays at 10:00-11:30am. This group are vibrant, retired folks studying a wide variety of topics. By bringing together life lessons and creating fellowship, they support each other at this stage of life.
This group begins a new topic series entitled "First Person Fictional Stories Told by New Testament People" on Sep. 19.
THURSDAY MORNING GROUP
This class meets on Thursdays at 10:00-11:30am.
It is a hybrid class, meaning you can come
This group is multi-generational, both men and women. We study books that relate to scripture. You are welcome to join at any time!
This group is currently studying Luke; Jesus and the Outsiders, Outcasts, and Outlaws, by Adam Hamilton. Through Luke's stories, we find Jesus' care and compassion for all as he welcomes sinner and outcasts.
Purchase your own book from your favorite book seller

.
for the zoom link or questions.
THURSDAY EVENING GROUP
This class meets on Thursdays at 7:00pm. This class for women is perfect for our life and times. We deal with many different seasons in our lives. This is a hybrid class, meaning you can come in person or use the Zoom technology. Beginning July 6, this group will study The Faith of a Mockingbird, by Pastor Matt Rawle.
This
4-week study is based on Harper Lee's To Kill a Mockingbird, and uses the beloved characters to explore Christian faith, theology, and ethics. We will consider God's word and what it all means.

Purchase your own book from your favorite book seller

and register online
J
oin us
for great conversation and wonderful fellowship.
H2O Women's Group
This class meets on Tuesdays at 1:00pm.
This class
is for women of all ages supporting
each other
with wisdom and perspectives
through the
studies we choose.
This group is currently watching and discussing
the third season of
The Chosen
.
Upper Room Devotion
This group meets Mondays at 9:15am and is facilitated by Pat Paren. Discussions each week will be based on the previous Wednesday's devotional in the Upper Room devotional book. Contact Pat Parren, patparren@yahoo.com for more information.
MEN OF IRON
This group meets on Mondays, 6:30-8:00pm

for great discussion, fellowship and learning to grow in faith. We will begin Andy Stanley's study, Why in the World? The reason God became one of us on January 23. Watch for information about our next study!
Contact Brian Riddle with questions.
UNITED WOMEN OF FAITH LILY CIRCLE
Meets on the third Thursday of each month at 7:00-8:30pm.

Activities include: Chili Dinner, Cookie Walk, Book Studies, Used Book Sale (benefiting missions), and Free Store meal preparation.
All women are welcome to attend! We will be reading The Mothers and Daughters of the Bible Speak by Shannon Bream.
W.H.A.T. IF?!
(Women Having Adventures in Faith Together)
What if you wanted to try something you have never done before? What if you had a supportive group of women to cheer you on? ALL women, ages 18-100, are welcome to come and try something new in a fun, nurturing and supportive environment.
Questions about W.H.A.T. IF?!, contact Kathy Nissenbaum,
CONNECTING THREADS
This creative group connects through Christian fellowship, prayer, and the creation of quilts to give away! All are welcome, even if you don't sew!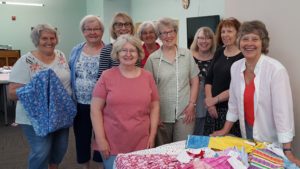 FINDING GOD IN BEST SELLERS
We find God in unlikely places. Each month read a different book for discussion with the group. We meet at the Scrambler's on Rt 23 in Lewis Center. Upcoming reads:
August 2: Remarkably Bright Creatures,
by Shelby Van Pelt
September 6:
All the Lonely People, by Mike Gayle
October 4:
Tending Roses,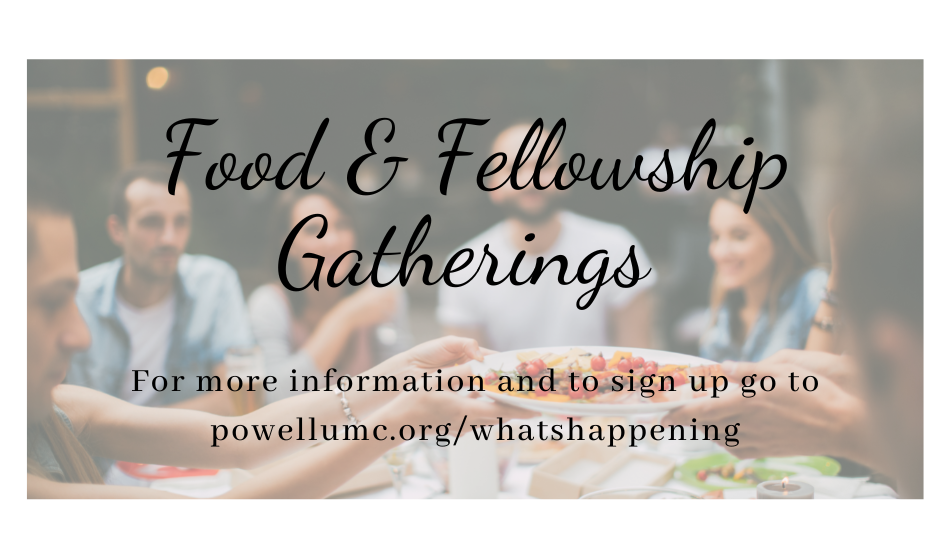 Fall Food & Fellowship Gatherings. Here's your chance to get to know other folks from church. Sign up to be part of a small group that will be put together. Each group will pick a restaurant monthly and meet for four months. No cleaning or cooking – just fellowship! For more details or questions contact Janet McGranahan at janetquerryrdh77@gmail.com or 419-902-3094. Register HERE to be put in a January 2024 group.