CHILDREN'S EVENTS
Stay Connected…Grow in Faith with God Together…& Change Our World Together…

Keep an Eye Out about…MARK YOUR CALENDARS
October Children's Check-In: Wednesday, October 5th, 6-7:30pm:
Register through the link below.
Family Fun… Fall Festival Night, Wednesday, October 19th, 6:30-8pm: We will have fall desserts, crafts, games, face painting, and dress in costumes! Come and fellowship as a family at church. Register through the link below.
November Children's Check-In: Wednesday, November 16th, 6-7:30pm: "A Thankful Heart". W
e will come together and talk about what it means to have a "Thankful Heart".
What does it mean to be thankful? What are we thankful for? How can we live our lives to thank God.
Registration coming soon!
Wednesday, December 7th from 6-7:30pm: We will watch a Christmas Movie and make a special Christmas craft! Registration coming soon!
"A Casual Christmas": Sunday, December 18th from 4-7pm: in the Sanctuary and Fellowship Hall. The handbells will ring from 4-5pm and then we will have an evening of making crafts from 5-7pm. ALL are invited to come!
Keep checking to see New Things Added…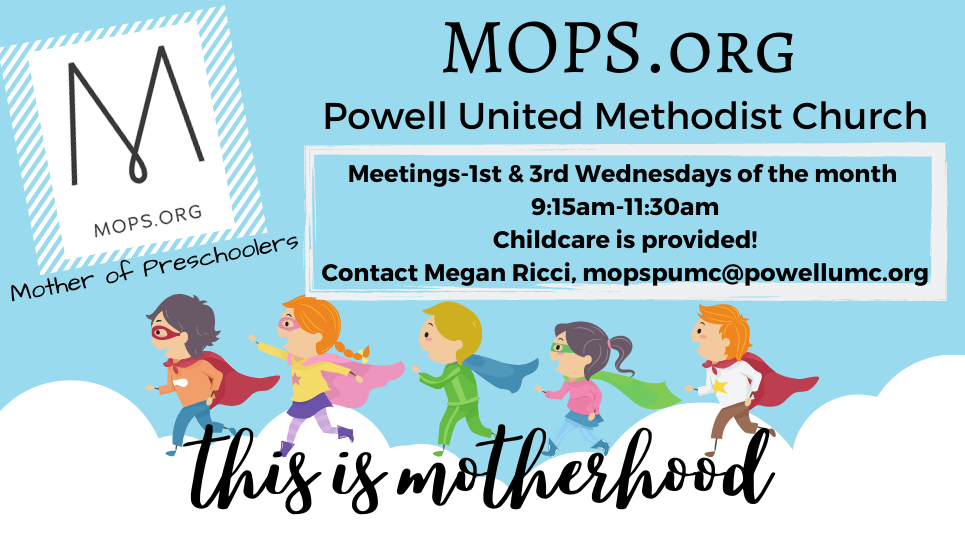 What is MOPS? MOPS (Mothers of Preschoolers), is a group that gathers and supports moms. MOPS believes in the simple but revolutionary idea that remarkable things happen when moms come together, face to face. That's why MOPS rallies women to come together in their own neighborhoods and help each other through this thing called motherhood, one gathering at a time.
New Interested Moms email Megan Ricci at mopspumc@gmail.com before beginning the registration process. Existing members, follow the below steps to register."
Fall Session Only (Sept-Jan) $20.00
Spring Session Only (Feb-May) $20.00
Fall and Spring Session (Sept-May) $30.00
Registration is a two part process.
Powell United Methodist Church (PUMC), click HERE. You will need to register yours and your child's information.
If you do not complete both the MOPS organization and the PUMC form your registration will not be complete. Please make sure to complete both.
For more information about MOPS, check out the national site at

mops.org.