Keep an Eye Out about…MARK YOUR CALENDARS
Operation Christmas Child: Look for our In-Person Operation Christmas Child Tables soon. But you can build, order and pay for a shoebox online now! More information below!
Author visit, Kate David, Sunday, October 24th, 3:00pm-4:00pm: ALL AGES are welcome to attend. Kate is a beloved Children's author and she attends our church! Come and learn about the writing process. Learn about and remind yourself how important it is to use our imaginations. This reading is for all ages, invite friends and family and be taken into the magic world of words and remind yourself that you can be anything you imagine. Books will be sold and autographed at this event! Click on the link below to learn more about Kate!
Prison Fellowship: Giving Christmas gifts to Children whose parent is incarcerated. See below for more information on how to register to participate.
A Thankful Heart, Wednesday, Nov 10th, 6-7:30pm: We will come together, make a craft, have a Bible study, eat pizza, fellowship and talk about what it means to have a thankful heart. Please register through the link below so that Ms. Rebecca has enough food and materials.
Children's Christmas Pageant, Saturday, December 11th at 3pm: See below for more details and registration.
A Casual Christmas, Sunday December 12th, 3:00-5:30pm: Join us for music, food, fellowship & crafts. The Children & Youth Bells will ring holiday favoriates songs from 3-4pm in the sanctuary. Then from 4-5:30pm we will have cookies, snacks, music and tons of crafts!
Christmas Eve Services, December 24th at 2pm and 4pm: Children will be leading two services. They will perform music, read scripture, dress up in Nativity Scene Costumes and be an active part of these worship services. Sign ups to read scripture and perform musically will be coming soon!
Christmas Eve Service 2pm: Joyful Ringers play and Cherub Choir sings
Christmas Eve Service 4pm: Joyful Ringers play and Cherub Choir sings
Keep checking to see New Things Added…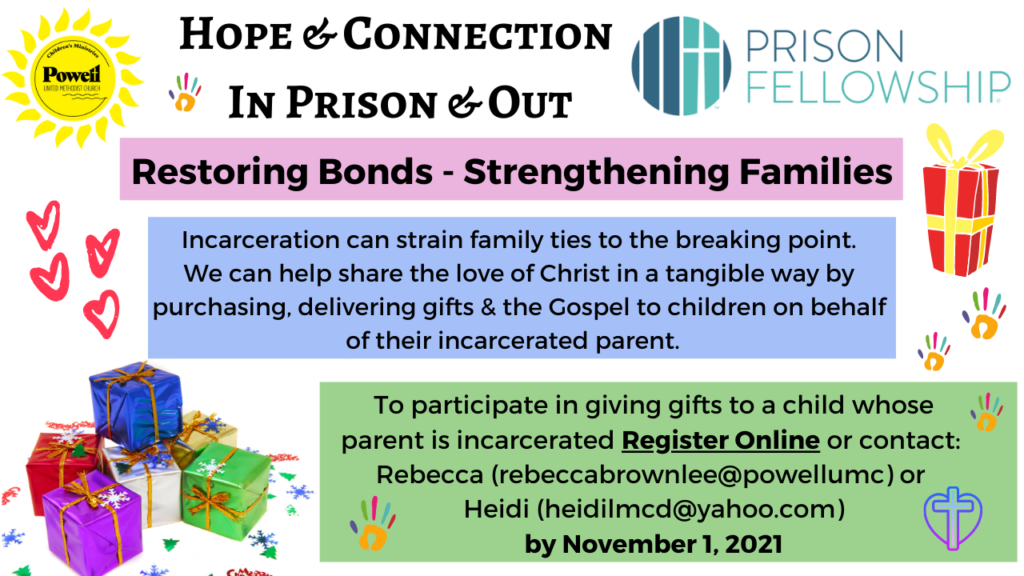 Registration deadline Monday, November 1st. Questions, contact rebeccabrownlee@powellumc.org or Heidi, heidilmcd@yahoo.com. To register, click HERE.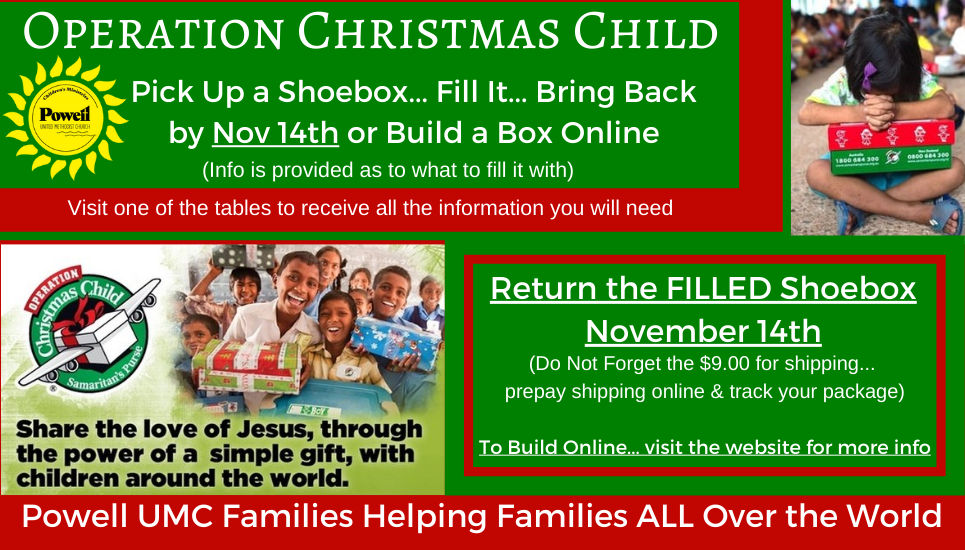 Look for our In-Person Operation Christmas Child Tables Soon… But You Can Build… Order & Pay for a Shoebox Online Now!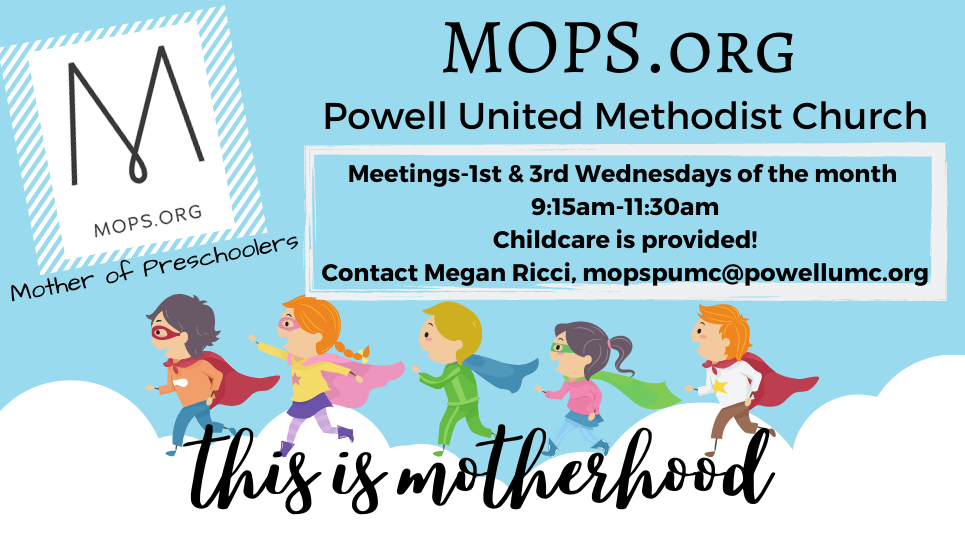 What is MOPS? MOPS (Mothers of Preschoolers), is a group that gathers and supports moms. MOPS believes in the simple but revolutionary idea that remarkable things happen when moms come together, face to face. That's why MOPS rallies women to come together in their own neighborhoods and help each other through this thing called motherhood, one gathering at a time.
New Interested Moms email Megan Ricci at mopspumc@gmail.com before beginning the registration process. Existing members, follow the below steps to register."
Starting September 15th! Registration is open!
Fall Session Only (Sept-Jan) $20.00
Spring Session Only (Feb-May) $20.00
Fall and Spring Session (Sept-May) $30.00
Registration is a two part process.
Powell United Methodist Church (PUMC), click HERE. You will need to register yours and your child's information.
If you do not complete both the MOPS organization and the PUMC form your registration will not be complete. Please make sure to complete both.
For more information about MOPS, check out the national site at

mops.org.