LOOKING AHEAD…MARK YOUR CALENDARS
April Children In Mission: Humane Society for Delaware County (there will be an items requested list). See below for more information.
Vacation Bible School (VBS) week: Morning Session, June 7-11, 9am-12pm. Evening session, June 6-10, 6-8pm. Reservations are required. Scroll down to see more information.
Scroll down for more details on these and other events.
This is what is scheduled as of now…
Keep checking to see New Things Added…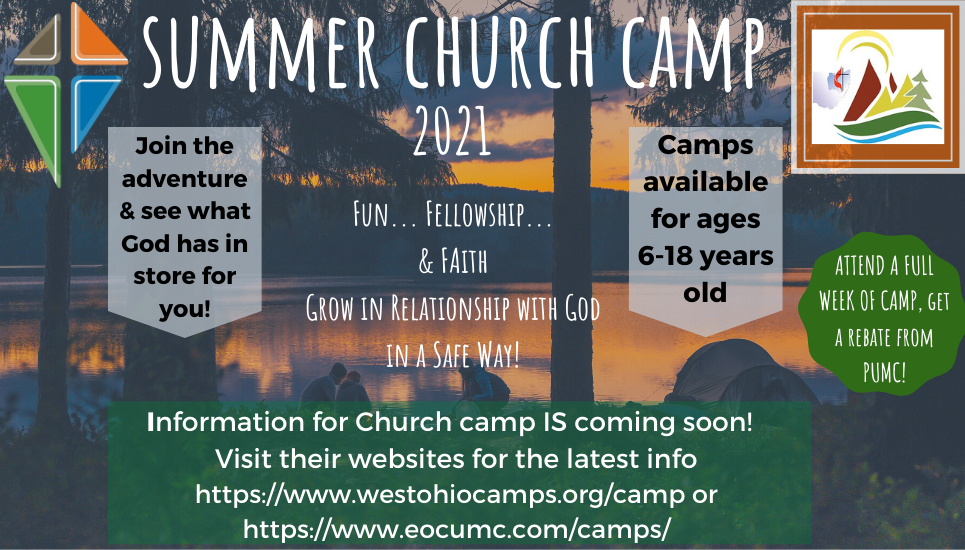 Church Camp IS Happening!!!
The West Ohio & East Ohio United Methodist Church Camps are currently working on safety protocols to allow for a wonderful and safe Church Camp experience!
Currently… check out their websites
What is MOPS? MOPS (Mothers of Preschoolers), is a group that gathers and supports moms. MOPS believes in the simple but revolutionary idea that remarkable things happen when moms come together, face to face. That's why MOPS rallies women to come together in their own neighborhoods and help each other through this thing called motherhood, one gathering at a time.
REGISTRATION IS OPEN!
If we are not able to meet in person, we will still meet virtually.
The last meeting for this session will be May 19, 2021.
Fall Session Only (Sept-Jan) $20.00
Spring Session Only (Feb-May) $20.00
Fall and Spring Session (Sept-May) $30.00
Registration is a two part process.
Powell United Methodist Church (PUMC), click here. You will need to register yours and your child's information.
If you do not complete both the MOPS organization and the PUMC form your registration will not be complete. Please make sure to complete both.
For more information about MOPS, check out the national site at

mops.org.