TUESDAY MORNING GROUP (TMG)
This group meets on Tuesdays at 10:00-11:30am. This group are vibrant retired folks studying a wide variety of topics. By bringing together life lessons and creating fellowship they support each other at this stage of life.
Beginning October 11th, we will be studying the 6 Things We Should Know About God by Tom Berlin.
The Study book for this series can be purchased from Amazon for around $10.00.
If you need help ordering the study book, please contact Dave Woodyard.
October 11, Session 1 – God Loves You
October 18, Session 2 – God Understands You
October 25, Session 3 – God Forgives You
November 1, Session 4 – God Wants You to Be Free
November 8, Session 5 – God Wants You to Change
November 15, Session 6 – God Wants to Be With You Forever
THURSDAY MORNING GROUP
This class meets on Thursdays at 10:00-11:30am.
It is a hybrid class. You can come in person or use the Zoom technology to attend.
This group is multi-generational, both men and women. We study books that relate to scripture. You are welcome to join at any time!
We are currently studying The Jesus I never Knew by Phillip Yancy.
We'll explore how the Jesus of the New Testament compares to the Jesus we think we know. Through enlightening biblical and historical investigation into the real Jesus we will have great discussions and reflection.
Purchase your own book. Facilitated by Kim La Rue & Mary Ellen Hatton
for the zoom link or questions.
THURSDAY EVENING GROUP
This class meets on Thursdays at 7:00pm. This class for women is perfect for our life and times. We deal with many different seasons in our lives. This is a hybrid class. You can come in person or use the Zoom technology. We are currently studying Me, Myself and Lies by Jennifer Rothschild. All are welcome. To order the book use this link: When ordering your book, make sure that you get the RED BOOK. There is a blue and pink version also, red is what you want. You can order from your preferred book site/store, below is the link to Amazon so you can see a picture of the book.
"Words are powerful. Especially the words women speak to themselves. All too often, what they say to themselves when they lie in bed at night or look in the mirror in the morning is not even close to the words God wants them to speak to their souls. This 7-session study will encourage you to clean out the junk in your mind and replace hidden negative thoughts with positive truths from God's Word."
Join us for great conversation and wonderful fellowship.

All-Church Advent Bible Study,
Prepare the Way for the Lord, Advent and the Message of John the Baptist
by Adam Hamilton.
Mondays at 1:00pm, facilitated by Mary & Chuck Ring
Meets November 14, 21, 28 and December 5
Mondays at 6:30pm, men's group facilitated by Brian Riddle
Meeting times to be determined
Tuesdays at 10:00am, facilitated by Dave Woodyard
Meets November 22, 29, December 6
Tuesdays at 6:30pm, facilitated by Pastor Justin Williams **
Meets November 29, December 6, 13, and 20
Wednesday at 8:00pm, LIVE Webcast facilitated by Pastor Katya Brodbeck
Online November 30, December 7, 14, and 21
Thursdays at 10:00am, facilitated by Mary Ellen Hatton and Kim La Rue
Meets November 17, December 1, 8, and 15
Thursdays at 7:00pm, facilitated by Kristina MacKenzie and Kim La Rue
Meets December 1, 8, 22, and January 25
Sundays at 11:00am, facilitated by Kathy Perry and Kim La Rue
Meets November 20, December 4, 11, and 18
H2O Women's Group
This class meets on Fridays at 9:30am-11:30am. This class is for women of all ages supporting each other with wisdom and perspectives through the studies we choose.
We are currently studying Season 2 of The Chosen. We will watch the episode together discuss in class what we've seen and heard.
Upper Room Devotion
This group meets Mondays at 9:15am and is facilitated by Pat Paren. Discussions each week will be based on the previous Wednesday's devotional in the Upper Room devotional book. Contact Pat Parren, patparren@yahoo.com for more information.
MEN OF IRON
This group meets on Mondays, 6:30-8:00pm

for great discussion, fellowship and learning to grow in faith. We begin a
new study on Samson, September 12th, with lively conversation and digging into the insights of the life of Samson.
Contact Brian Riddle with questions.
UNITED WOMEN OF FAITH LILY CIRCLE
Meets on the third Thursday of each month at 7:00-8:30pm.

Activities include: Chili Dinner, Cookie Walk, Book Studies, Used Book Sale (benefiting missions), and Free Store meal preparation.
All women are welcome to attend! We will be reading The Mothers and Daughters of the Bible Speak by Shannon Bream.
W.H.A.T. IF?!
(Women Having Adventures in Faith Together)
What if you wanted to try something you have never done before? What if you had a supportive group of women to cheer you on? ALL women, ages 18-100, are welcome to come and try something new in a fun, nurturing and supportive environment.
Watch for upcoming events!
Questions about W.H.A.T. IF?!,
contact
Kathy Nissenbaum,
CONNECTING THREADS
This creative group connects through Christian fellowship, prayer, and the creation of quilts to give away! All are welcome, even if you don't sew!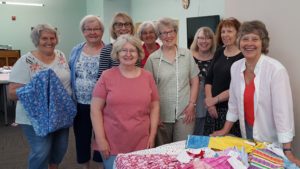 FINDING GOD IN BEST SELLERS
We find God in unlikely places. Each month read a different book for discussion with the group. We meet at the Scrambler's on Rt 23 in Lewis Center. Upcoming reads:
December 7: Finding Me, A Memoir, by Viola Davis
January 4: Lessons in Chemistry, by Bonnie Garmus
February 1: Dinners With Ruth, by Nina Totenberg
March 1: The Next Ship Home, by Heather Webb
April 5: The Secret Wife of Aaron Burr, by Susan Holloway Scott
May 3: Our Missing Hearts, by Celeste Ng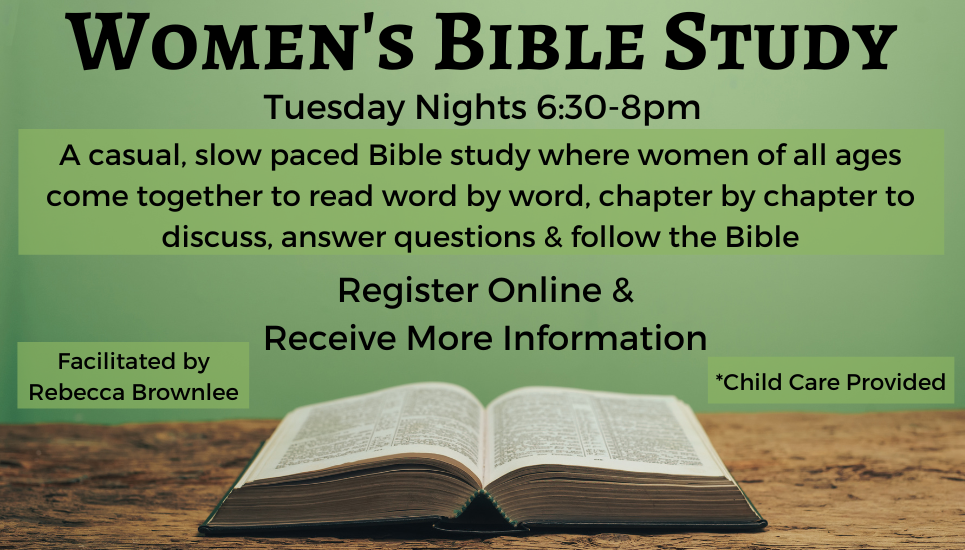 Women's Bible Study: Tuesday Nights 6:30-8:00pm
This is a casual slow paced Bible study where women of all ages come together to read word by word, chapter by chapter to discuss, answer questions and follow the Bible.
Facilitator is Rebecca Brownlee.
Register
HERE
or email
rebeccabrownlee@powellumc.org
. Child Care is provided!
DISCIPLE II FAST TRACK

Disciple II Fast Track is a 24 week study. The sub-title is "Into the Word, Into the World". It is appropriate since the Disciple I class
tells us what it means and how to be a Disciple. This second study continues to ground us in scripture and pushes us out of the
nest to do what we've been called to do in the world. This study connects the inner life of the Spirit to the outer life of God's work
in the world by studying Genesis, Exodus, Luke and Acts.
The prerequisite to taking this class is that you have completed the Disciple I study at some point. Watch for a start date for the next series.
Must register to receive all the information and allow the facilitators to be prepared with materials. Facilitated by Jeff Firkins & Kim La Rue

If you are frustrated that people just don't understand that you are grieving or wonder how you can ever feel a small bit of joy in life again, please join us for GriefShare. This 13-week study is for anyone who has lost a spouse, partner, child, family member or friend to death. It addresses the issues that we encounter in grief.
Beginning soon!
Register HERE. There is a $10.00 registration fee due at the time of registration.
DISCERNMENT
The class is a unique opportunity to explore Spiritual Discernment… that is, figuring out what God is trying to tell us, or where God is leading, or making a decision that seems that we should consider God's input. The class will be a commitment and a blessing all at the same time.
January 31, February 7, 6:30-8:30pm.
There will be a 6-week break and the final session will be March 21, 6:30-8:30pm. These sessions will be via Zoom to reach all people throughout the conference.
Click on the link below for more information and to register.
These sessions are facilitated by Kris Shoaf, a deaconess in the United Methodist Church and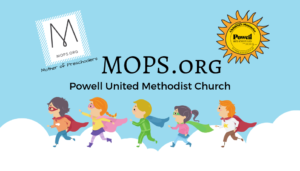 Registration is open!
Click HERE to register and for more information.
For more information about MOPS, check out the national site at
mops.org
.