SMALL GROUPS AND STUDIES
For previous LIVE webcasts/studies and other videos, click HERE.
TUESDAY MORNING GROUP (TMG)
This is a group of vibrant retired folks studying a wide variety of topics. By bringing together life lessons and creating fellowship they support each other at this stage of life. We
will continue on January 11 the study of The Difficult Words of Jesus, chapter two. Amy-Jill Levine digs into the context, heritage, scripture and the heart of Jesus to understand more about things that we usually skip over in scripture.
THURSDAY MORNING GROUP
This class meets on Thursdays at 10:00-11:30am.
It is a hybrid class. You can come in person or use the Zoom technology to attend.
This group is multi-generational, both men and women. We study books that relate to scripture. You are welcome to join at any time!
January 6th begins the book is Courage; Jesus and the Call to Brave Faith by Tom Berlin.
Join us to discuss living this life of faith with courage. Author, Tom Berlin, writes beautifully and adds to the
discussion with his videos.
You will want to get your own book. Join us for this fascinating study and great discussion.
for the zoom link or questions.
THURSDAY EVENING GROUP
This class meets on Thursdays at 7:00pm. This class for women is perfect for our life and times. We deal with many different seasons in our lives. This is a hybrid class. You can come in person or use the Zoom technology. Take Courage; A Study of Haggai by Jennifer Rothschild begins on Thursday, January 6. When the exiled people of Israel returned home everything was not as they had left it. They were distracted, discouraged, and ready to throw in the towel. The prophet Haggai reminded them (and us) that they find courage in the God who had never leaves. You will need to purchase your own book. Register online.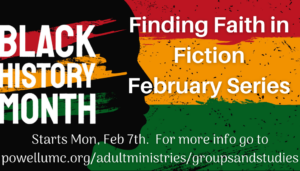 Finding Faith in Fiction February Series begins in Black History month on Monday, February 7 for 5 weeks. Final session will be March 7th.
Focusing on Racial Justice using three books:
"Roll of Thunder Hear my Cry" by Mildred D. Taylor
"Voice of Freedom Fannie Lou Hamer" by Carol Boston Weatherford
"Ghost" by Jason Reynolds
*You will need to purchase "Roll of Thunder Hear my Cry" and "Ghost". "Voice of Freedom Fannie Lou Hamer" will be provided.
It's helpful to understand this issue from many perspectives. Join us to explore new understandings, gracious conversation and scriptural understanding of our roles as Christians.

Facilitated by Mackenzie Saffel, Diane Thomas & Kim La Rue.

Questions contact kimlarue@powellumc.org.

If you are frustrated that people just don't understand that you are grieving or wonder how you can ever feel a small bit of joy in life again, please join us for GriefShare. This 13-week study is for anyone who has lost a spouse, partner, child, family member or friend to death. It addresses the issues that we encounter in grief.
Watch for dates of the next seminar.
Registration is required. There is a $10.00 registration fee due at the time of registration.
H2O Women's Group
Begins a study on the T.V. series "The Chosen" on January 7 at 9:15am. This dramatic portrayal of Jesus through the eyes of those who knew him will give us much to unpack and discuss. Purchase your own study guide.
Upper Room Devotion
This group meets Mondays at 9:15am and is facilitated by Pat Paren. Discussions each week will be based on the previous Wednesday's devotional in the Upper Room devotional book. Contact Pat Parren, patparren@yahoo.com for more information.
MEN OF IRON
This group meets on Mondays, 6:30-8:00pm for great discussion, fellowship and learning to grow in faith. Contact Brian Riddle with questions.
LILY CIRCLE
Meets on the third Thursday of each month at 7:00-8:30pm.

Activities include: Chili Dinner, Cookie Walk, Book Studies, Used Book Sale (benefiting missions), and Free Store meal preparation.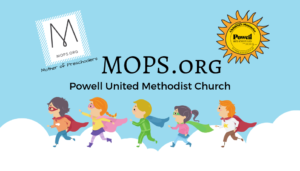 Registration is open!
Click HERE to register and for more information.
For more information about MOPS, check out the national site at
mops.org
.
WHAT IF?!
(Women Having Adventures in Faith Together)
What if you wanted to try something you have never done before? What if you had a supportive group of women to cheer you on? ALL women, ages 18-100, are welcome to come and try something new in a fun, nurturing and supportive environment.
Watch for upcoming events!
Questions about W.H.A.T. IF?!,
contact
Kathy Nissenbaum,
CONNECTING THREADS
This creative group connects through Christian fellowship, prayer, and the creation of quilts to give away! All are welcome, even if you don't sew!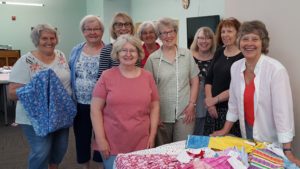 FINDING GOD IN BEST SELLERS
We find God in unlikely places. Each month read a different book for discussion with the group. We meet at the Scrambler's on Rt 23 in Lewis Center. Upcoming reads:
Feb 2: West With Giraffes, by Lynda Rutledge
March 2: The Sacrifice of Lester Yates, by Robin Yocum
April 6: The Personal Librarian, by Marie Benedict
DISCERNMENT
The class is a unique opportunity to explore Spiritual Discernment… that is, figuring out what God is trying to tell us, or where God is leading, or making a decision that seems that we should consider God's input. The class will be a commitment and a blessing all at the same time.
The next discernment retreat begins February 8 and 15 at 6:30pm via Zoom.
After these initial two sessions there will be a six-week break for journaling, prayer, worship, reflection and spiritual direction. The final session will be March 29. Registration deadline is January 25th.
Click on the link below for more information.
These sessions are facilitated by Kris Shoaf, a deaconess in the United Methodist Church and
Kim La Rue, certificated in Spiritual Formation.